The Rhode Island Association of Conservation Districts, incorporated August 1995, is a 501-c-3 organization whose mission is to attract public and charitable monies that can be used by the three State of Rhode Island Conservation Districts for their work in the stewardship of the State's natural resources through education, outreach, and technical assistance and to assist and support the districts in their endeavors.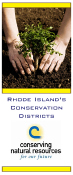 Our organization ...
offers assistance to the directors of RI's conservation districts;
assists and guides districts in the preparation and carrying out of programs for resources;
reviews district programs;
coordinates the programs of the conservation districts;
resolves any conflicts in those programs.
— RFP —
RI Association of
Conservation Districts (RIACD)
REQUEST FOR PROPOSALS
Engineer Design for Main Street
& Slater Mill Dam Fish Passages
Pawtucket, RI
A Celebration of
Rhode Island Conservation
Saturday, October 20, 2018
See Calendar | Get Flyer
Pay by PayPal or credit card below...